35 HP Vanguard -The Ultimate in Performance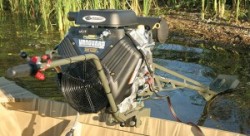 The 35 HP Beavertail is the epitome of what a mud motor should be. Nothing compares to the legendary power and durability of this motor. If you need the ultimate in speed and backwater capability, the 35 is for you.

Engine Type
35 HP Vanguard
Electric start - performance cam
Digital spark advance module
993cc

Drive Train
Exclusive, patent pending, stainless steel removable bearing assemblies. Upper and lower stainless removable caps and housings. Polished, ground, balanced and electroless nickel plated drive shaft.

Propeller
Unit comes with the exclusive Performance Series prop. Stainless steel and built with cad/cam computer technology for precision accuracy. Super weedless, heavy cupped.

Finish
Flat finish marine powder coat (Olive Drab). All units come with zinc rich undercoat primer powder coat.
*360 degree swivel feature on all aluminum frame models works only on boats with straight transoms.

Weight (approx.)
220 LBS

Trailering
Tail shaft swings into the boat.
Exclusive 360-degree swivel with true safety stop spring pin (safety stop spring pin available on steel model only).*Rubber mounted, engine adjustment bolts for motor trimming capabilities.

Boat Recommendation
This motor is made for jon boats up to 22′, including Duck Wrangler style boats. However, the typical boat for this motor would be a 16′ to 20′ flat jon. This motor can used on a 14′ or 15′ jon boat, but for optimal performance we recommend Beavertail's Performance Pods™. When you are hunting with three or more people, decoys and a dog, the 35 Beavertail is the motor of choice. It's incredibly strong, reliable and fast.

Price: Item # - $4,889.99 + $100 Crating & Handling + shipping
(call for shipping quote)
27 HP Kohler -Battle-Tested Durability and Power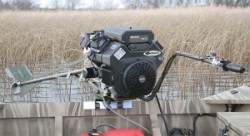 The 27 HP Kohler Beavertail is known as the "Iron Horse" because of its legendary toughness and brute strength. It has proven time and again that it will get you where you need to go, and back again - and do it fast

Engine Type
27 HP Kohler
Electric start - performance cam
Digital spark advance module
27 BHP @ 3600 rpm

Drive Train
Exclusive, patent pending, stainless steel removable bearing assemblies. Upper and lower stainless removable caps and housings. Polished, ground, balanced and electroless nickel plated drive shaft. Uni-seamless Frame
Exclusive, seamless, robotics welded, hardened steel frame. All frame parts CNC milled and laser cut for alignment accuracy.Propeller
Unit comes with the exclusive Performance Series X 9 x 6 or 9 x 7 prop. Stainless steel and built with cad/cam computer technology for precision accuracy. Super weedless, heavy cupped.

Finish
Flat finish marine powder coat (Olive Drab). All units come with zinc rich undercoat primer powder coat.Weight (approx.)
170 LBS

Trailering
Tail shaft swings into the boat.
Exclusive 360-degree swivel with true safety stop spring pin (safety stop spring pin available on steel model only).* Rubber mounted, engine adjustment bolts for motor trimming capabilities.

Boat Recommendation
This motor is made for jon boats up to 20′, including Duck Wrangler style boats. However, the typical boat for this motor would be a 16′ to 17′ flat jon. This motor can used on a 14′ or 15′ jon boat, but for optimal performance we recommend Beavertail's Performance Pods. When you are hunting with three or more people, decoys and a dog, the 27 Kohler is the motor of choice. It's incredibly strong, reliable and fast.

Price:
Item #94427 - $4,219.99 + $100 Crating & Handling + shipping
(call for shipping quote)e models works only on boats with straight transoms.
35 HP Surface Drive Durability and SPEED!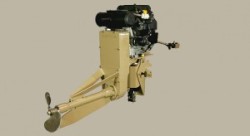 Surface Drive Motors
The wait is finally over! As surface drive motors continue to grow in popularity, we have taken the concept and catapulted it to the next level creating a surface drive backwater motor that lives up to the Beavertail legacy. With geometrically reinforced all aluminum frame and drive housing, frame weight is minimized to deliver an outstanding power to weight ratio. We've spent countless hours on the water, pushing and perfecting the frame and drive system to ensure you are getting the most optimized surface drive available. The bottom line; as with the entire line of Beavertail backwater motors, we've made no compromises, taken no shortcuts, and made no excuses...

35 HP Surface Drive Specs:
Price: $6,699.99 Item #94460-Short Shaft for 16" Transom), or, Item #94459 - Long Shaft for 20" Transom
Shipping: $300 Crating & Handling + shipping (call for shipping quote)
Engine: 35 HP Vanguard, Electric start - performance cam., Digital spark advance module. 993cc
Engine: 35 HP Vanguard, Electric start - performance cam., Digital spark advance module. 993cc
Drive Train: Synchronous Belt Drive, Electric Clutch, Polished Ground, Balanced Electroless Plated Drive Shaft

Frame: Aircraft Grade Aluminum Frame and Housing

Prop: High Performance 2 Blade Stainless Steel

Finish: Flat Marine Powder Coat (Camo Khaki), Zinc Rich Undercoat Primer Powder Coat

Weight: 262 lbs (approx.)
Trailering: Conventional Style Power Tilt and Trim to Raise Prop and Shaft Above Trailer Plane

Price: $6,599.00 Item#94460-Short Shaft for 16″ transom, or, Item #94459-Long shaft for 20″ transom. Handling + Shipping (Call for Shipping quote)
BOOK NOW FOR 2019 SPRING SNOW GOOSE SEASON!


CONTACT GDS TODAY!
CALL NOW 651‑755‑1612